Biznis start-up centar Bar organizuje besplatnu radionicu "Primjena pametnih tehnologija u turizmu" 07. i 08. juna 2021. Radionica će se održati u terminu od 9-14 časova (sa pauzama) u Biznis start-up centru u Baru (Bar, Bulevar revolucije bb, Poslovni centar "Kula A", sprat V), a svi zainteresovani koji ne mogu fizički prisustvovati, radionicu mogu pratiti online, uživo putem zoom platforme.
Teme koje će se na radionici razmatrati su:
1. Istraživanje digitalnog tržišta i definisanje ciljnih grupa potrošača;
2. Dostupnost digitalnih kanala i upotreba u svrhe povećanja tržišta i prodaje turističkog proizvoda;
3. Kreiranje marketing strategija zasnovanih na pametnim tehnologijama;
4. Upotreba modernih alata za bolje prezentovanje destinacije i ponude u njoj.
Radionica je prvenstveno namijenjena privrednicima u oblasti turizma, a svi zainteresovani se mogu prijaviti popunjavanjem aplikacionog formulara istaknutog na web stranici www.bscbar.org ili putem telefona 069 379 258 najkasnije do 04. juna.
Predavačica na radionici je Anđela Đokić, specijalista menadžmenta i marketinga u turističkoj djelatnosti, a digitalnim marketingom se bavi sedam godina upravljajući dijelom globalne mreže putnih vodiča za Crnu Goru – My Guide Montenegro. Osnivačica je koncepta FitCamp Montenegro, a svoje znanje iz oblasti preduzetništva i digitalnog marketinga je razvijala sa timovima iz Velike Britanije i Holandije.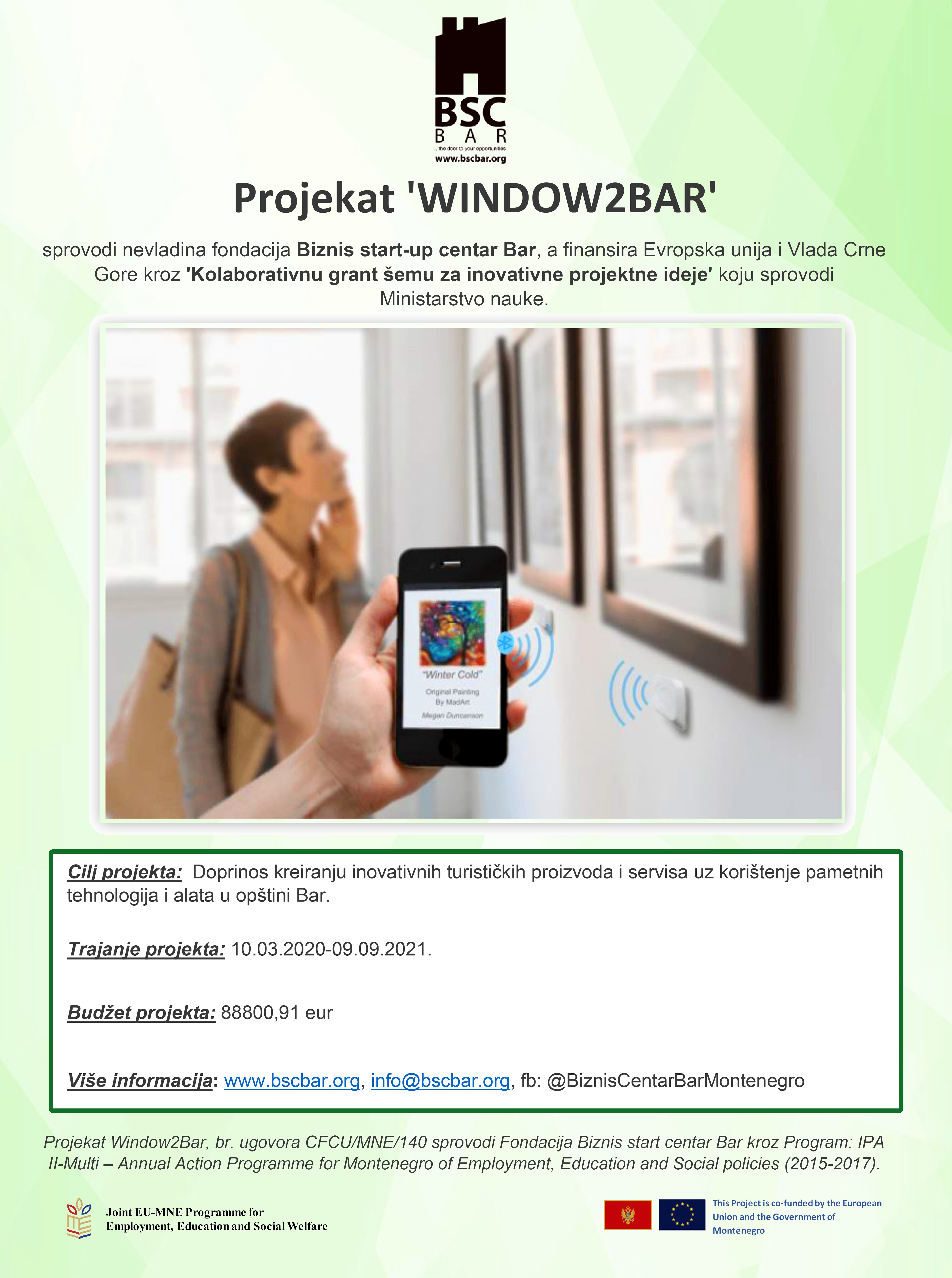 Organizovanje radionice je aktivnost projekta "Window2Bar", br. ugovora CFCU/MNE/140, Program: IPA II-Multi – Annual Action Programme for Montenegro of Employment, Education and Social policies (2015-2017). Cilj projekta je doprinos kreiranju inovativnih turističkih proizvoda i servisa uz korištenje pametnih tehnologija i alata u opštini Bar. Do sada je kroz projekat razvijena metodologija i sprovedeno istraživanje sa stejkholderima u turizmu i turistima i postavljena je bikon tehnologija na 5 lokacija u Baru na kojima će turisti kroz gejmifikaciju saznati više o kulturno-istorijskoj ponudi Bara i ponudi lokalnih privrednika.