Zastava grada Perasta drevna je i aristokratska.
Tokom svoje istorije, ova zastava je svoj izgled mijenjala više puta, ali ono što je oduvijek postojalo u samom srcu zastave, je grb Perasta, a to su dvije ruke koje drže krst.
Jedan od najljepših svojih izgleda zastava je dobila za vrijeme vladavine sjajne Mletačke Republike, koja je obogatila grad i stanovnike, koji su vjekovima radili za interese Republike Veneto.
Što su sjajniji i uspješniji bili to je i zastava Perasta sa svojim grbom u sredini, bivala bogatija.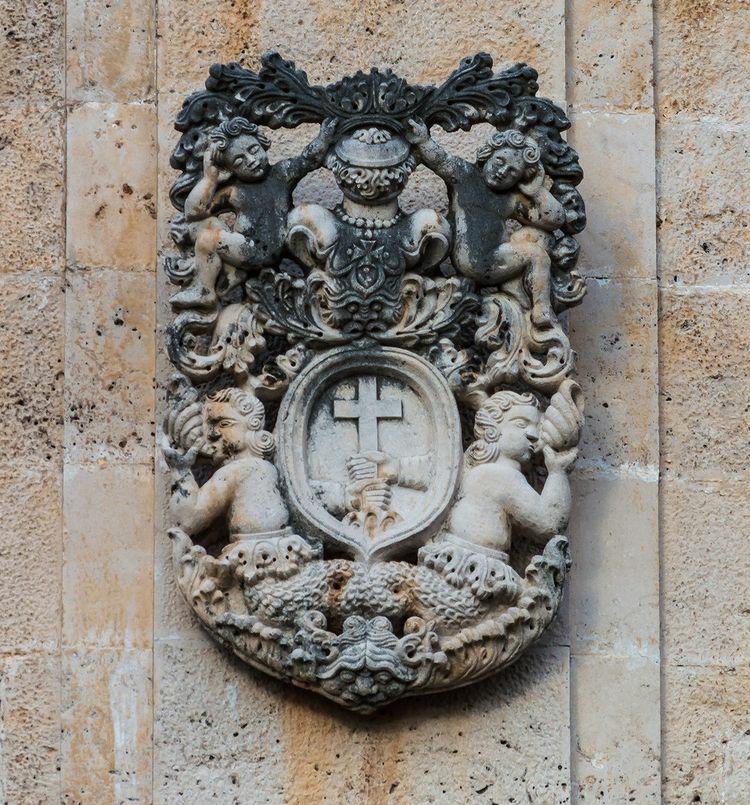 Foto: Ranko Maraš
Na nekim peraškim palatama se još uvijek može vidjeti grb sa krstom koje drže dvije ruke u koji je savršeno uklopljen drugi grb određene plemićke porodice.
Zastava grada Perasta se danas može vidjeti prilikom održavanja peraških manifestacija, kao što je "gađanje Kokota" ili "Zavjetni dan" , kada u defileu kroz Perast zastavu nosi Peraštanin obučen u nošnju Bokeške mornarice.
Izgled zastave sjajnog Perasta zaslužuje da bude opisan do najsitnijih detalja.
Zastave, koje se nalaze sa obje strane zastave-grba, predstavljaju značenje GONFALON, a to predstavlja dužnost čuvara zastave Republike Venecije, tj. Republike Veneto. Ova zastava je nošena i čuvana i nikada niti u jednom pomorskom boju nije izgubljena kroz burnu istoriju.
Oružje u podnožju grba je simbol oružanih borbi na moru i na kopnu, pa govori da je Perast svoju nezavisnost branio oružjem, politikom i velikim razumijevanjem.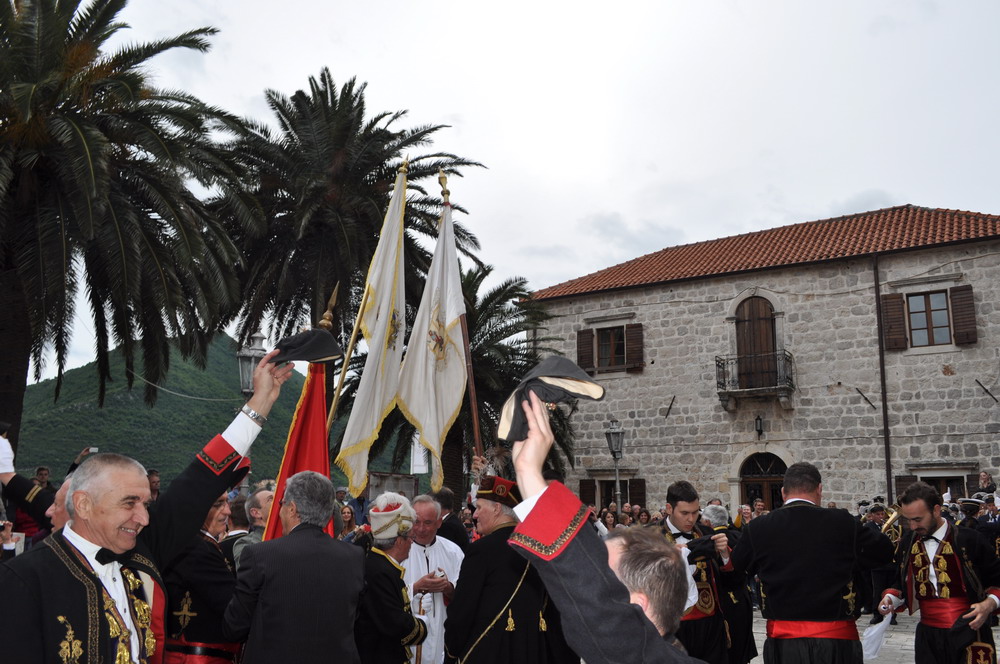 Dva odlikovanja u obliku krsta predstavljaju Ordene Krsta Svetog Marka.
Od ovih ordena je kroz cijelu istoriju republike Venecije dodijeljeno 7, a Perast i Peraštani su zaslužili čak dva ordena. Jedan orden je pripao najdražem u Mlecima, Vicku Bujoviću, a drugi je zaslužio konte Alviz Vickovic.
Orden okruglog oblika u sredini je ORDEN REPUBLIKE VENETO, jedan jedini koji je dodijeljen u istoriji ove Republike, a uručen je gradu Perastu za sve zasluge kroz istoriju.
Sam Grb sa krstom, koji drže dvije ruke nosi poruku – dvije vjere u jednog Boga.
Zapravo, cijela veličanstvena istorija Perasta stala je u ovaj grb.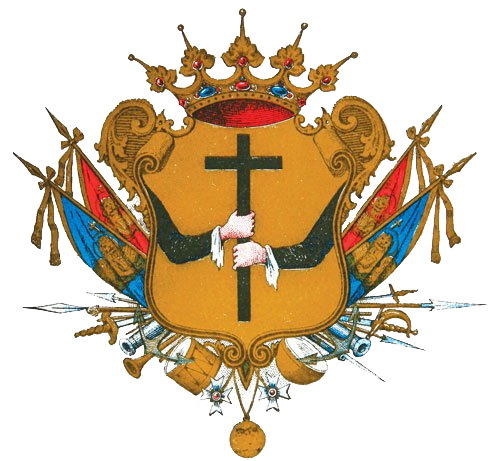 Čuvajući ratnu Zastavu po imenu "Serenissima", punih 377 godina, koliko je Mletačka republika vladala na ovim prostorima, osmoro njenih čuvara je dalo svoj život, braneći je! Ratna zastava je po propasti Republike Veneto, nakon što je Napoleon osvojio Perast i Boku, sahranjena uz ceremoniju u Perastu. Do današnjeg dana nije pronađena.
Posljednji, od trojice čuvara koji su zastavu sahranili u tajnosti, na pitanje da kaže gdje je sahranjena, odgovorio je – da mrtve ne treba uznemiravati.
O autoru kolumne "Iz ugla jedne Peraštanke"
Marijana Niković je Peraštanka koja radi kao turistički vodič. Njene priče su drugačije, neispričane, pune zanimljivih detalja o čuvenim bokeškim porodicama, pomorcima i mještanima, zato je turisti posebno vole. Na Instagram stranici Visit_Perast možete pratiti fotografije, a na #ShareMontenegro portalu priče o najromantičnijem mjestu Crne Gore. 
Naslovna fotografija: Sanja Golubović Samardzić