A unique region of Montenegro
Pretty little blooms of lilac and white are the first sign of spring in the Montenegrin mountains. These flowers indicate that it is time to explore. North of Herceg Novi, about a half an hours drive through some quiet villages and after maybe getting stuck in a cow traffic jam or behind a tractor moving at 5 kmph you will find Orjen mountain. It is a distinct feature of this part of Montenegro, that within the span of half an hour you can go from the sea to the mountains.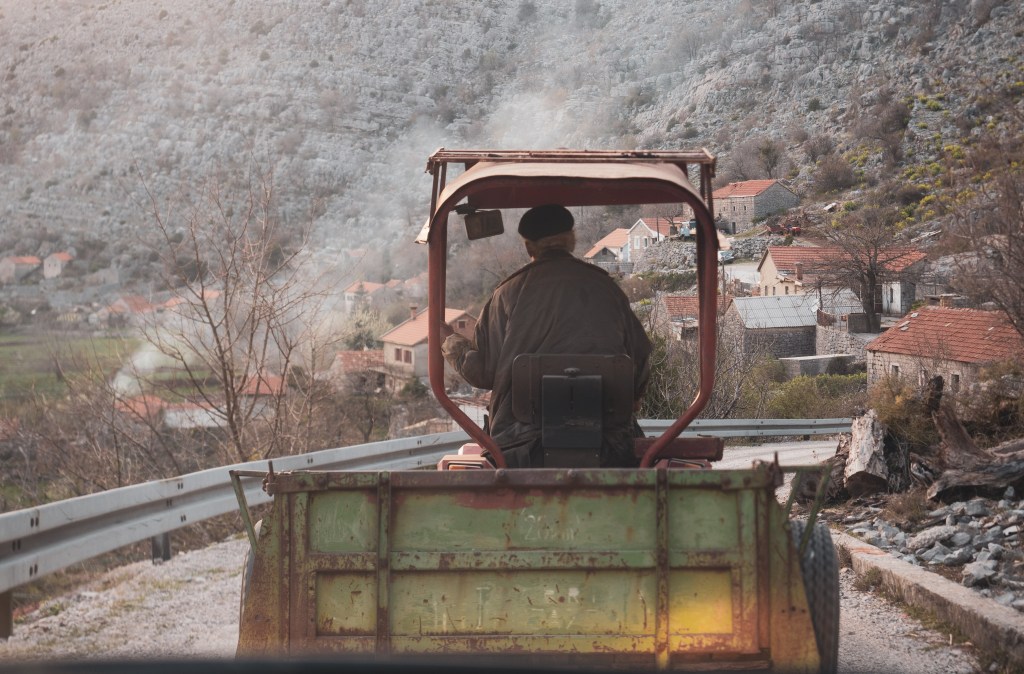 Meeting our guide
Upon arriving in the carpark of The Adventure Park, we were greeted by our guide Saša, a muscular man clad with bright activewear and a day pack. He was obviously well prepared for mountain adventures. I will preface everything by saying that Marko told me we will probably do a ten-minute walk which would be ideal for two people who essentially hibernated for most of the winter.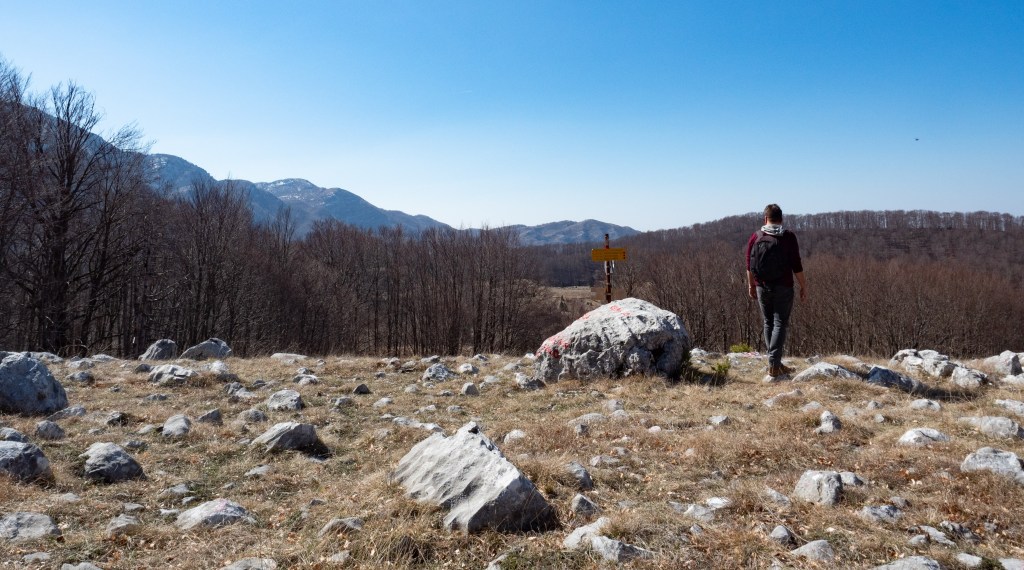 We started off on a road that was constructed by the Austro-Hungarians back in the 1800s. It was flat, well-surfaced, like a walk in the park. Eventually, we were walking up a hill in the forest, with the ground covered in leaf litter and the trees barren, they were still waiting to be let in on the secret that it is indeed spring. We stopped at the top of the hill where there was a picnic table with a panoramic view of Orjen, it was time for coffee. In the distance, there was a peak still dusted with snow.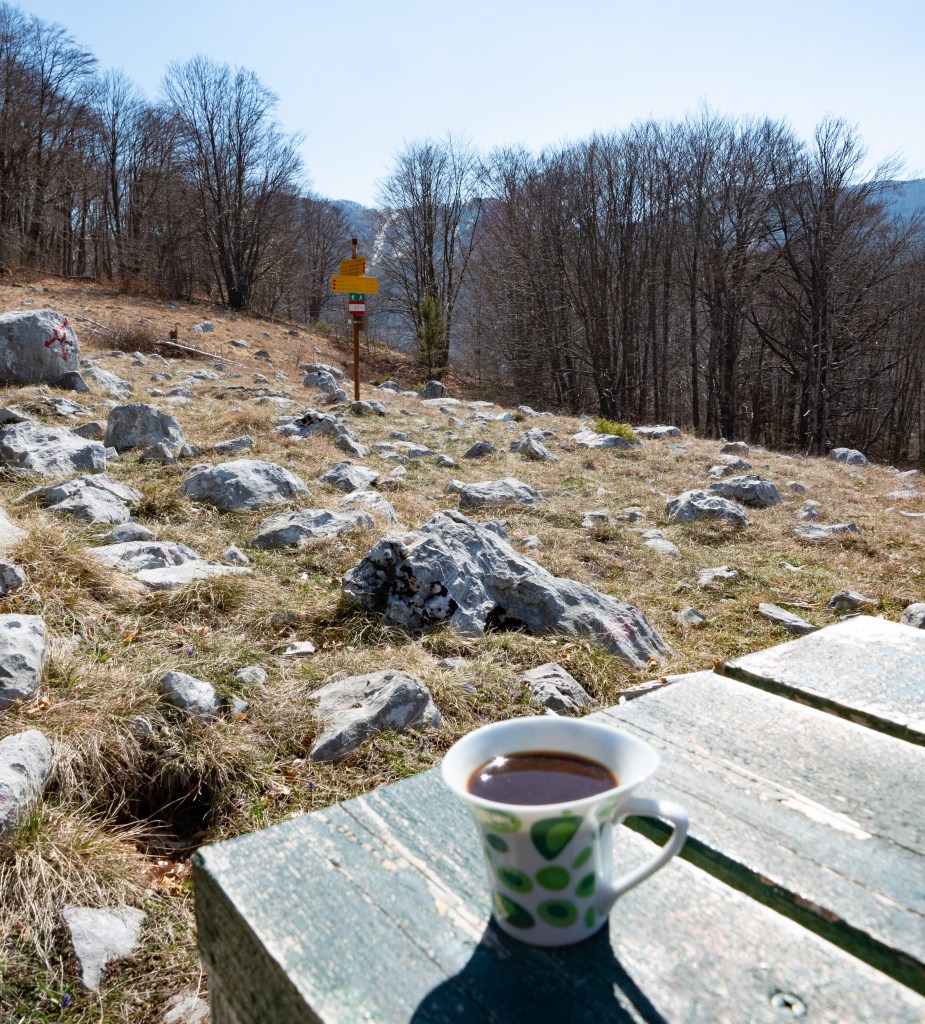 A specific type of beauty
Compared to mountainous regions like The Dolomites or The Alps, Orjen which is part of the Dinaric Alps is considered to be ugly. It has a mostly desolate looking, otherworldly type of landscape, full of craggy rocks that were sculpted through millions of years of limestone erosion. It is jokingly said that Bear Grills couldn't even survive Orjen because there are no natural sources of water and really nothing to forage for in terms of food, aside from some wildflowers that are picked for tea and rosettes of green succulents. This region is home to black bears, wild boar, hares, snakes and birds. The rare Rock Partridge which is considered to be a trophy among bird watchers can also be found here. Birdsong is the only sound you can hear aside from your own footsteps while wandering around Orjen.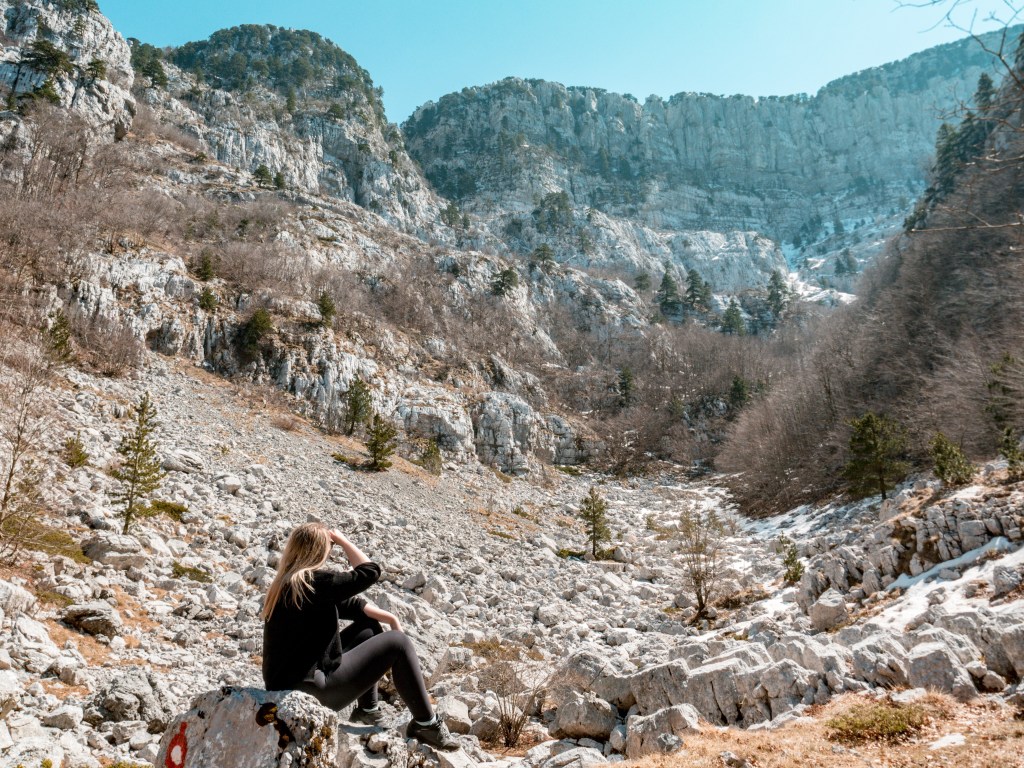 Our guide, Saša is an ultra-endurance trail marathon runner who has been exploring Orjen for the last 15 years. I couldn't help but ask, "what keeps you returning to this 'ugly' mountain?" He explained that those that know Orjen, affectionately refer to it as having a 'specific type of beauty' because of its uniqueness. You won't find many mountain ranges like this one. Covering 400km2 of ground, stretching 25km from Montenegro to Bosnia-Hercegovina, Orjen presents a lot of ground to conquer, that combined with the rough terrain means endless opportunities for physical challenge.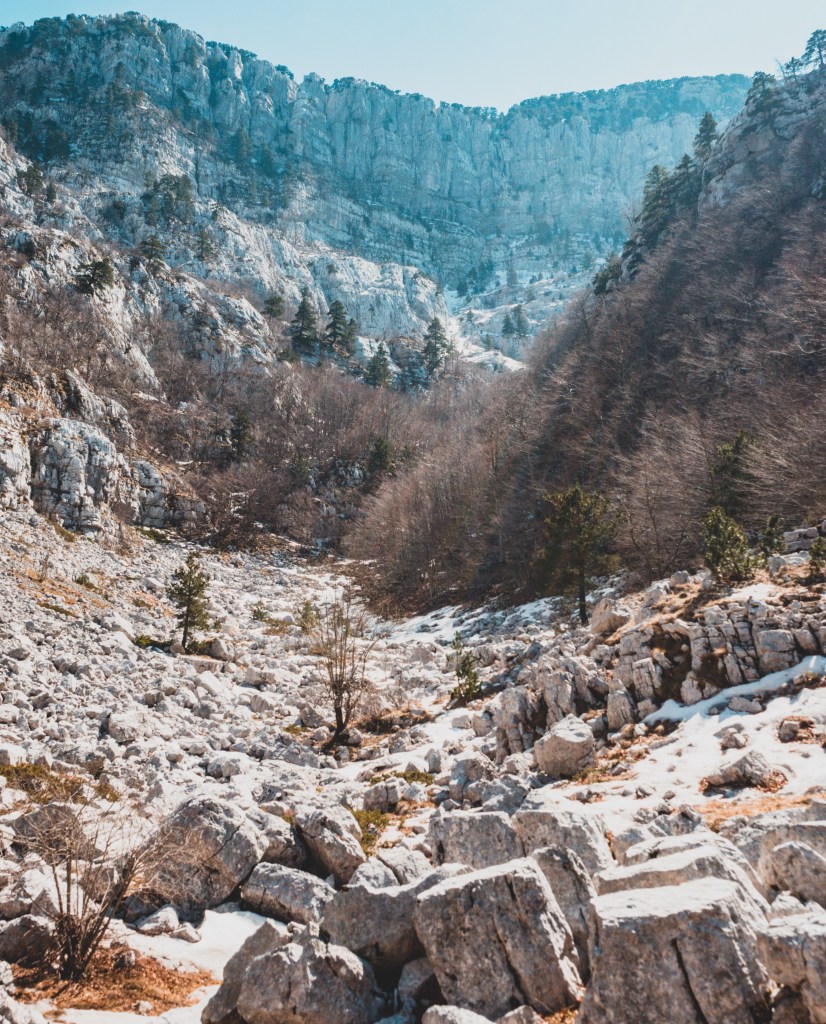 This land has long been utilised by locals
After finishing off our coffee, we headed onwards, progressively through more challenging terrains. Downhill through to a rocky meadow, we came across a 150-year-old rainwater catchment which was covered with tiny lizards running across the stone formation which was shaped like a pyramid. Maybe Bear could survive Orjen after all. We continued on, eventually coming across an old farmers hut, where a farmer used to spend the night while cattle grazed in the meadow. "Do you want to go to the cave"? Saša enquired. He had previously told us that with his trail running friends he likes to go to this cave which is under an amphitheatre-like shape in the mountain. They normally enter the cave and drink snow cocktails there. Without any convincing, Marko and I both emphatically said "Yes".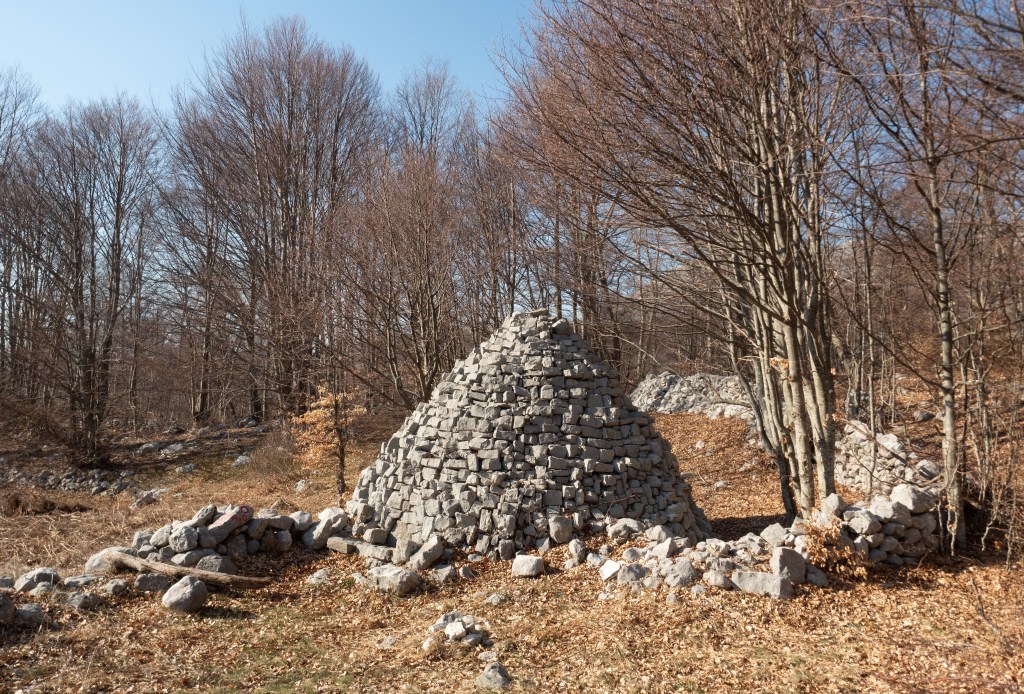 This is when the real challenge began. As we approached the mountain, the terrain became more difficult, more rocky, icy and snowy. A challenging walk turned into a desperate clamber. We took short cuts through areas teeming with thick vegetation. Before even reaching the cave, I knew that this was the hardest hike I had ever done. Hiking in such a difficult terrain requires pure focus, just to get to the next step without slipping or falling. In those moments, it is amazing how clear your mind becomes. The nearing views of the snow-capped mountain spurred us on, the unexpected landscapes really kept us guessing, 'what could we come across next'?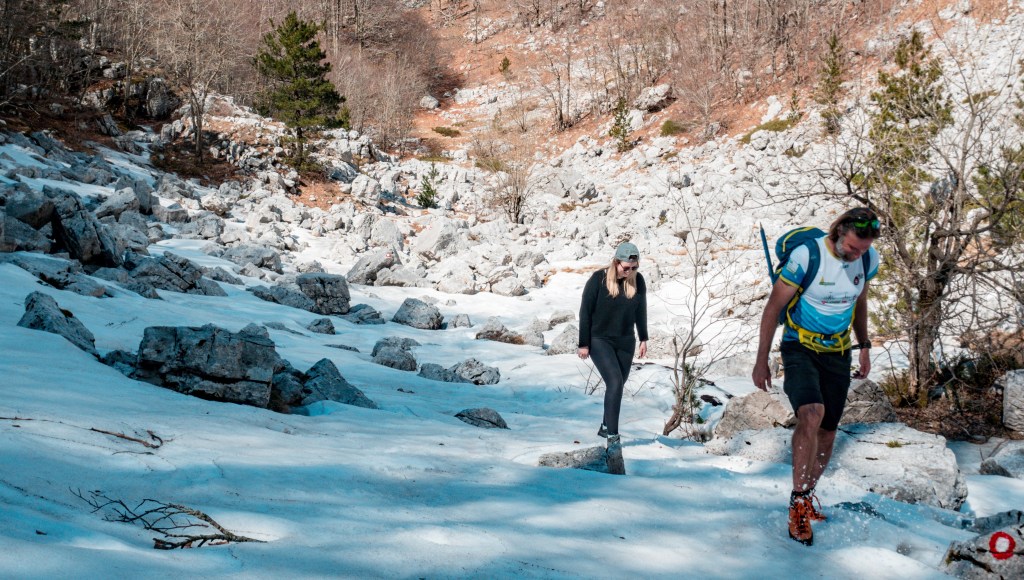 Rewarding arrival to the cave
After a few hours, we arrived at the foot of the mountain, where there was a small cave partially hidden underneath the snow. Small tufts of pale grass stuck out around the snow. Saša pulled out his vodka, some sweet fruit syrups and a blood orange. He dug in the snow with a small shovel to get us some fresh ice, then mixed together this special concoction which he refers to as 'Dragons Throat', named after the Dragons Throat gorge that was directly above us. This sweet mixture with the little hit of vodka turned out to be exactly what I needed to continue on in this hike and was honestly one of the best cocktails I've ever had.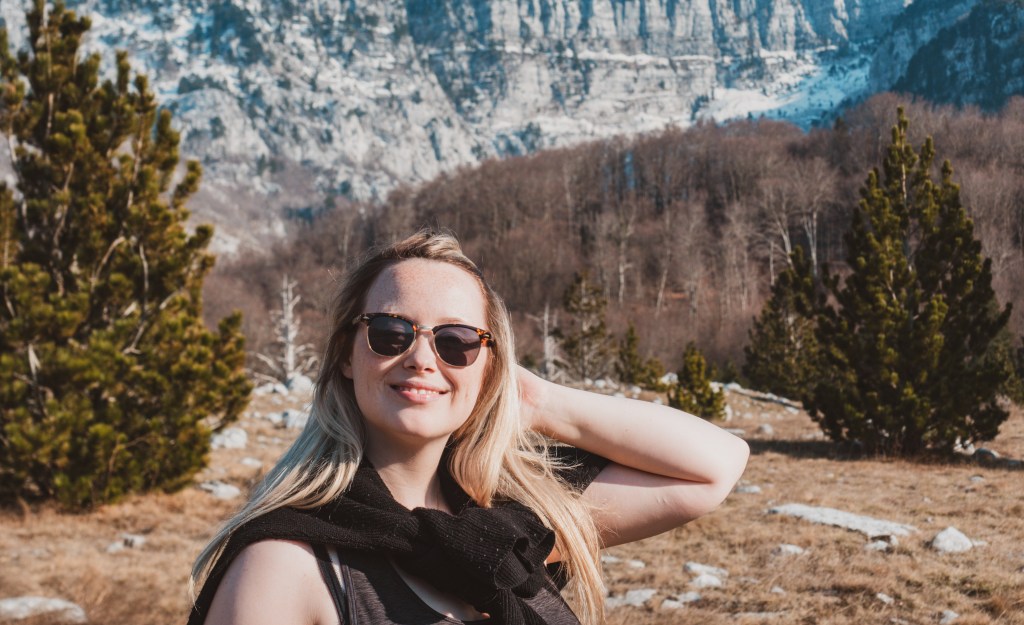 Heading back
The sun was starting to go down. I was wondering how I could possibly make it back with my tired legs whose muscles had been rudely awoken from a long slumber. Saša knows a lot about this land, with 15 years of experience exploring the region you learn a lot. But besides being an excellent guide, expert of Orjen and all things relating to physical exertion, he is also like a masterful personal trainer. Like a farmer guiding a donkey with a carrot on a stick (yes, Marko and I are donkeys in this analogy), he had us convinced that there as only 20 minutes to go basically every hour and encouraged us to continue in our moments of severe weakness.
It is always worth going the extra mile
We hiked solely on willpower. It was an exhilarating reminder that I am capable of more than I think. It also reminded me of my love for a physical challenge in the outdoors. When I was back in Australia, I often lamented that just by going the extra mile (literally and figuratively) when travelling, that you are rewarded tenfold, often with a secret beauty, with no other souls in sight, except for some animal souls maybe. It is always worth so the effort, as it was when we pushed our limits to explore Orjen.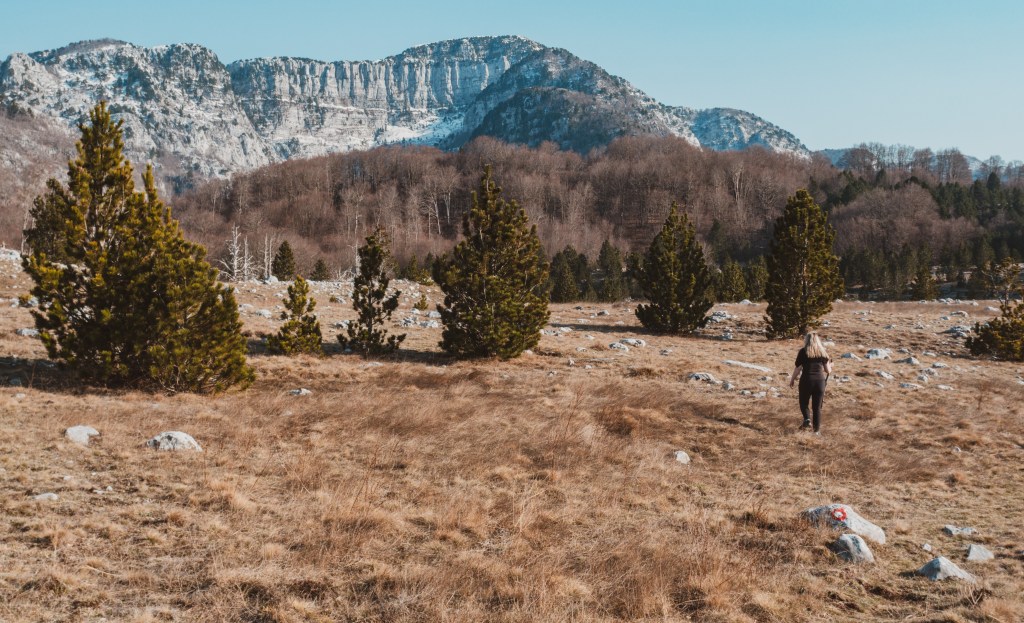 Intoxicating crisp scents of pine wafted towards us as we bathed in golden sunlight, the sun was starting to set. We returned like victorious heroes from an old war film, proud from the achievement of conquering Orjen which dare I say, is the best and only way to experience this region.
Mikki is a friend of Share Montenegro portal. This interesting girl is from Melbourne and she currently lives in Montenegro. We love her experience of  true "wild beauty" mountain – Orjen. For more stories, visit her site Snooze and explore.